HAY WAGON RUNNING GEAR
The hay wagon has started and regular postings of the progress will be available here. Most of the steel purchases were done at local scrap yards. Here's a shot of the steel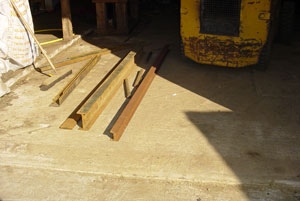 After much discussion with a number of different used automobile parts people it has come down to the fact that buying new spindals, hubs wheels and tires will be $300 to $400 cheaper than used. Isn't that weird?
The parts have been ordered and Princess Auto has sent them off.
March 8, 2006
I was able to get some more time into the wagon project today. Because 3" X 3/4" wall seamless mechanical tubing was so hard to find I decided to drill top and bottom bushings out of some 1 1/2" plate that I picked up at the scrap yard and then weld some tube between them to eventually contain the grease. It might not be the right way but at times you must work with what you got when working a shoe string budget.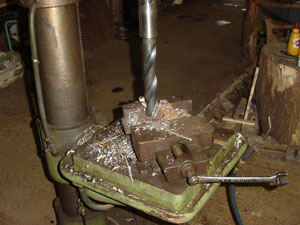 Here is a shot of my gear head drill press drilling a 1 1/2" hole. This drill press was bought from a fellow who was importing them into Canada from Bulgaria. He couldn't speak english yet but seemed like an honest guy. The drill keeps drilling. There was a local guy who wired it up to run on single phase. I'm not sure how he did it but it involves lots of capaciters.
The press doesn't have a problem pushing the drill through the plate and it could probably handle up to 2" diameter or more.
Here is a shot of the knuckle ready for welding. This is pretty standard stuff and if ever Practifab starts picking up and getting busy then the first person to hire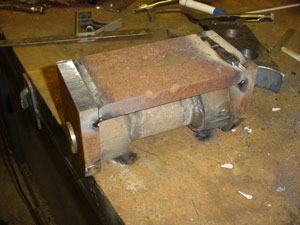 would be a welder. Welding is just plain miserable.
Bending is where its at!
Once this wagon is finished it will be one of the products available in the product section of my website. The new product section should be available by the end of this week.
This next picture is of the knuckles, king pins and bushings all welded together and ready to weld onto the axles. There was only a little over 8' of 6" Ibeam at the scrap yard and I hope that it will be enough to get two axles out of it. 4' long plus the spindals plus the rims and tires it should get the whole wagon out to almost 6'.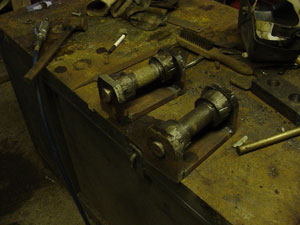 Another note: The spindals and hubs have arrived and they did not have the mid weight units in stock so they gave me a discount on the heavy spindals so the spindals and hubs can support 6000# each. That should be sufficient.
March 29, 2006
Once again there has been time to do some work on the wagon running gear.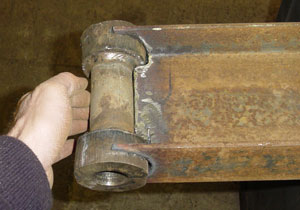 The bushings have now been welded into place. The fitting of these busings would have been easier if I had found some seamless mech. tubing but oh well. This shouldn't break.
After tacking them in place using a temporary jig I welded them in using some 7018 rod.
Gee wizz I hope they're straight enough.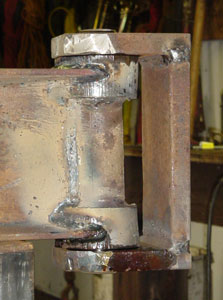 April 3, 2006
Well I really didn't know where to go from this point on. So it was about time to get the old computer warmed up and do some design work. My brain could not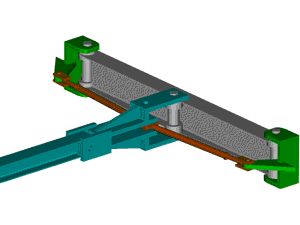 really hold all the linkages and what not at the same time. Ideally the wagon should turn as sharp as possible. This will reduce the amount of problems with the drawbar bending when the operator turn too tight.
Darn operators!
Here is the drawing of the front axle with the steering as I think it may work. It should turn up to 75 degrees.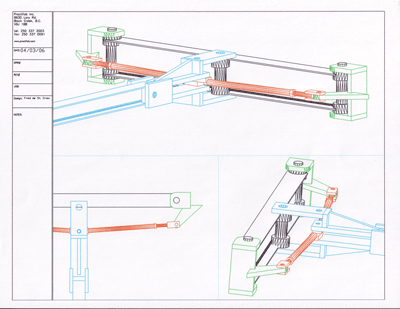 April 4, 2006
The plan has changed slightly. Here's the new drawing. Maybe this design would be better. However the turning has been reduced to 70 degrees.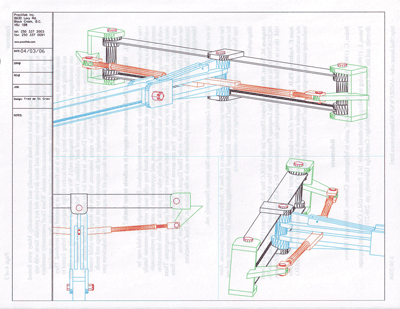 April 18, 2006
Managed to find another 3 hours to work on the front axel of the wagon. The tierods have been installed and the most complicated part of this project is over.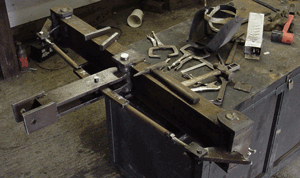 The unit seems to turn as expected. It will turn to a 70 degree angle. The drawbar stops are sitting ontop of the axel and will be welded on next. The project ground to a halt when I ran out of Oxygen on Easter Monday.
The Wagon was completed in the beginning of June and is now available in the Product section.
There were many things learned while building this unit and the production model includes higher quality bushings.